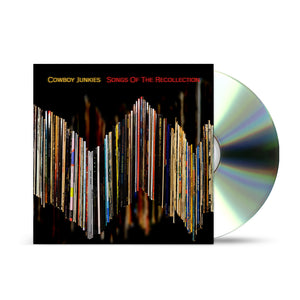 Songs of the Recollection CD
0041-3001-0034
This is a pre-order item. CDs will be shipped out on March 25th. LPs will be shipped near the end of April (unfortunately due to an enormous backlog at all vinyl manufacturers around the world we cannot give you a precise shipping date for the vinyl). 
Cowboy Junkies – Songs of the Recollection
Long before we were musicians, we were music fans. We didn't grow up sitting around the kitchen table playing instruments and harmonizing. We grew up sitting around the record player listening to each other's record collections and having our minds and worlds expanded by what we were listening to. This was the passion and experience that we shared. Our goal has always been to create music that takes hold of the listener the way that this music took hold of us. These are some of the songs and some of the artists that found their way into our lives and eventually into our repertoire over the past fifty years. 
Five Years
Ooh Las Vegas *
No Expectations
Don't Let It Bring You Down
Love In Mind
The Way I Feel *
I've Made Up My Mind To Give Myself To You
Marathon *
Seventeen Seconds *
*previously commercially released