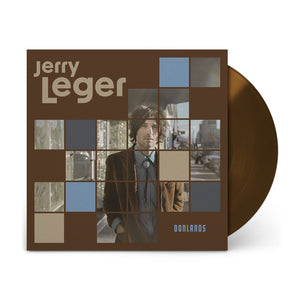 Donlands Limited Edition Brown LP
0066-3003-0018
THIS IS A PRESALE PRODUCT.  SHIPPING OCTOBER 27TH.
On his new album Donlands, Leger has taken a different approach, teaming up with legendary Canadian producer/engineer Mark Howard (Lucinda Williams, Bob Dylan, Tom Waits, Neil Young), whose trademark atmospheric sound adds an entirely new dimension to Leger's approach. Named after the street in Toronto's east end where it was recorded, in what once was the Donlands Theatre, Donlands presents Jerry Leger as he's never been heard before.
Side 1
Sort Me Out
I Was Right To Doubt Her
I'll Stay
Three Hours Ahead Of Midnight
The Flower And The Dirt

Side 2
Wounded Wing
You Carry Me
I Need Love
Out There Like The Rain
Slow Night In Nowhere Town
 * Brown LP colouring may vary.