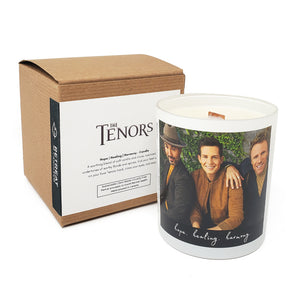 Hope. Healing. Harmony. Candle
0102-2000-8
A portion of the proceeds goes to Unsinkable. 
A soothing blend of soft vanilla and clove, nuanced by undertones of earthy florals and spices. Kick your feet up, put on your fave Tenors track, close your eyes, and enjoy. Not only do partial proceeds of these amazing smelling Tenors candles go to kids and youth mental health initiatives, BUUUT....and this is a big BUT....15 of the candles have a charm hidden inside of them! If you find a charm in your candle, The Tenors will be sending you an exclusive signed merchandise item! How is that for a keepsake?! The candles are sustainably-made, cruelty-free, made with the highest quality ingredients, and each candle comes with a seed-paper bookmark to plant in your empty candle jar afterwards.


This item is excluded from the Patreon discount code
If you spot a charm in your candle, here is how to safely remove it:

1) Congrats, you're a winner! Let the candle continue to burn until the charm is loose in the wax.
2) Grab some tweezers. Blow the candle out. Carefully pluck the charm from the wax with the tweezers and place it on a counter top or plate.
3) Let it cool for 30 minutes.
4) Take a picture of both sides of the charm, send that picture to: care@merchmrkt.com and use the subject line: Hope Healing Harmony
5) Our team will contact you with next steps.